Haha, wow. Here I was wondering how long my music muse was going to stick around, and then - through one of

sannion
's oracles - I find out that Dionysos would like it if I didn't neglect my music and has, in fact, asked me to compose a song for Him as an expression of my gratitude for the advice He has been giving me over the past year or so. (Well, a further expression of my gratitude, since I already did an offering to Him and to Artemis a few weeks ago.) I'm sure composing that song will be quite the experience, in between pondering whether I seriously would like to write both "Professional Procrastinator" and "This Song Sucks."
Additionally, I've been trying to think of where in my crowded, book-and-clothes-and-general-junk-
stuffed room I could possibly set up even a tiny altar to Artemis.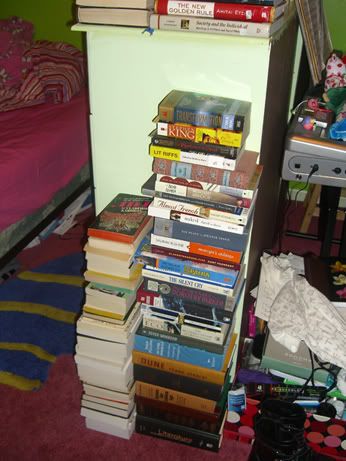 Folks, what you are looking at is a partial collection of my many unread books. (The others are stacked on top of the dresser.) If I could clear out this space (by reading all these books! ...or the majority of them, at any rate), I could find a small shelf or a table and then stick it there, and then decorate the altar appropriately. There've been a few Artemis statues I've been eyeing on eBay, let me tell you. (Such as
this one
or
this one
or
this one
.* I personally rly rly liek
this one
, but holy hell, 17.5 inches? I'm not having that while I'm still living in my parents' house.
I effing love this cameo pendant
, though, and would also like to get my hands on this. Never mind that apparently it's been "pre-blessed"...)
The fact that this space is pretty much in the center of my room could have interesting implications for the significance of my spiritual path in my life.
Or perhaps I'm just staying up too late thinking too hard about things, as usual.
-Reileen
don't you mess with a little girl's dream
---
*Or maybe even
this one
!